Customer Reviews
Write a Review
Ask a Question
Filter Reviews:
journal
book
daughter
kids
teens
children
Big Life Journal
niece
Christmas
Some
11/25/2020
Collette O.
Ireland
Big life journal
I haven't received them yet!!
10/22/2020
Cinthia V.
United States
A blessing during our family's hardest days.
Thank you for creating this journal! We have used it to start our school days every morning and get into a great mindset. However when life threatening medical issues landed me in the hospital for 16-days (during COVID and no kids allowed) she used this journal every day while staying with family. She choose to be brave versus scared and this journal helped her get into the mindset every day of the struggle of not knowing if her momma would be ok or not. THANK YOU barely covers it! We will be getting the Tween Journal next!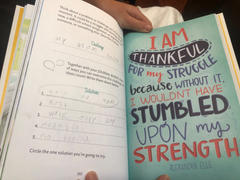 09/18/2020
Kobus O.
Ukraine
Excellent
It's absolutely fantastic. Teaching English in Ukraine and its a wonderful teaching tool.
09/12/2020
Maureen
United States
worked for my son
The Big Life Journal just arrived at our house the other day. Being a perfectionist, my son struggles with accepting ownership of his negative emotions and behaviours; according to him, his emotions and behaviours are everyone else's fault. Last night he struggled and was quite rude (yay pre-teen). Eventually, I had to remove myself from the situation and just got ready for bed. About 1/2 an hour later my son comes into the room with his Big Life Journal. He showed me the pages he filled out and we had a good conversation about them. He was calmer and apologized for his earlier behaviour. He enjoyed seeing where he had a fixed mindset and where he had a growth mindset. It was super cool to see that he could identify that. It was a good conversation and it was nice to see him feel good about himself and see where he could be more open minded. A great start!! Thank you!!!
09/11/2020
Rachel S.
United States
Best thing ever for my child
I am so incredibly thankful for this journal. I can't even express how valuable it's been for us. My daughter has ADD, Aspergers and anxiety and the challenges she's faced in the last 11 years have caused self esteem and depression problems. She's been to counseling and cognitive behavioral therapy with limited success. I've seen 10 times more positive results using this journal than any of the therapy she's received. We go through the journal together which strengthens our relationship and allows me to apply the lessons in the journal to the specifics of her life. She loves using it and I love seeing her grow and feel better while using it. Thank you so much for providing this and all of the other wonderful tools at Big Life Journal.